What Will Payment Processing Be Like in the Next 10 Years?
Posted May 2, 2014by Remy Domler Morrison ,Market Strategies International
Article
This article discusses what payment processing might be like in the next ten years.

What Will Payment Processing Be Like in the Next 10 Years?
Technology is rapidly changing the world we live in, and it's clear that not even the most conventional of human affairs can escape it. Consider, for example, the ways we now "do lunch." It wasn't long ago that our options were limited to a cafeteria or restaurant, where the merchants who served us were tied to accepting cash or checks or using a credit card imprinter to take our money. But times have changed.
Perhaps for lunch you've tried one of the increasingly popular food trucks that accepted your payment with Square, a card-reading peripheral attached to a mobile device. Or perhaps you grabbed something from a hot bar found in many of today's food stores and paid for it simply by tapping your mobile device to a terminal at the checkout.
Use of Alternative Payment Methods Is on the Rise
Recently, Cogent Reports™ conducted an in-depth study, Merchant Paymentality™, that explored merchants' perceptions, usage and expectations regarding the changing world of payment processing and its solutions. We found that newer, non-traditional payment methods, like those described above, are not yet widely known or understood among merchants. While adoption of these newer payment options may still be in its infancy, these methods already account for a substantial proportion of many businesses' total annual sales revenues.
One-fifth (20%) of small business' and two-fifths (40%) of private enterprises' total revenue in 2012 came through non-traditional methods. Furthermore, the average proportion of total revenue collected through all non-traditional means is closer to half among upper mid-market businesses (those with 100 to 499 employees) and merchants under the age of 35, suggesting that a greater underlying shift in how payments are accepted is well under way in today's market.
While you may have heard of PayPal, Bitcoin, BillMeLater, Google Wallet and Square, you probably have not heard of some of the lesser known brands such as Stripe, Breadcrumb, BitPay, ProPay and V.me by Visa. But in this market, disruptive innovation is the norm. And as providers continue to develop and unlock the potential of the solutions they offer, today's bit player may become tomorrow's payment standard. It's hard to say exactly how you will be paying for lunch 10 years from now, but it seems increasingly certain that you won't need to bring your wallet.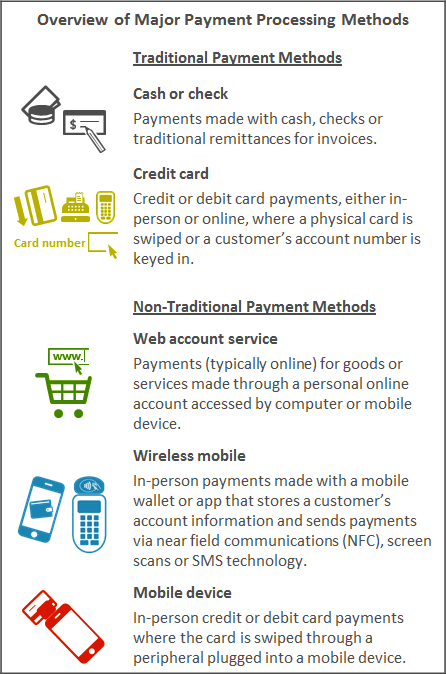 For a more in-depth overview of the new and alternative payment processing options and the opportunity for growth among small businesses and private enterprises, download our white paper, The Next New Way to Pay.

This content was provided by Market Strategies International. Visit their website at www.marketstrategies.com.