W5 on Ethnography
Posted December 3, 2014 , W5
Article
Ethnographic research is an ideal methodology for understanding real world behaviors and attitudes and can be used for a variety of purposes including message development, brand engagement strategies, retail experience design, customer service, and other customer interactions.
Ethnographic marketing research helps organizations remain abreast of consumer relationships with brands, products, and services through in-context interviews and observations. It is an ideal methodology for understanding real world behaviors and attitudes and can be used for a variety of purposes including message development, brand engagement strategies, retail experience design, customer service, and other customer interactions.

What is Ethnography?
Evolving from cultural anthropology, ethnography is consumer research conducted within the context of real-world experiences. Researchers become intimately familiar with research subjects' lives through direct observation and interaction.
Consumer ethnography interprets daily life rituals such as cooking, communicating, working, and shopping to uncover the motivations and meanings of those behaviors. Online and mobile technologies provide additional opportunities for research subjects to share daily activities and thoughts from afar in written, video and photographic formats, giving researchers a direct line to consumers' everyday lives and thoughts.

W5 has employed ethnography to inspire brand and messaging strategy for a variety of clients, from understanding how point-of-sale displays and social interaction impact young women's purchase of beauty products, to uncovering tensions among quick-service oil change customers.

Ethnography is particularly suited to uncovering insights from activities that are process-intensive or interaction-focused, examples include shopping for mobile phones or dining out at restaurants. Ultimately, ethnography creates an interpretive framework for understanding the consumer by determining what internal (emotional, rational) and external (social, cultural, environmental) influences affect perception and motivate behavior.

Why Use Ethnography?
Ethnographic research delves beneath self-reported attitudes, behaviors, and motivations to understand environmental, social, cultural and psychological influences on consumers. Once uncovered, these insights can be translated into actionable recommendations for marketing, messaging strategy and product design.
Ethnography identifies meaningful patterns and themes through sustained, structured observation and interaction with people browsing, buying and trying products, or using services. The skilled ethnographer can then highlight the points of inflection along the consumer path-to-purchase and how various factors influence that path. Talking with consumers before, during and after shopping, ethnographers can unearth rich detail and subtlety around the purchase process.

Ethnography provides comprehensive information about the entire product usage, consumption or purchase cycle and the consumer's perceptions of that process. This nuanced approach gathers details in the context of the larger consumer landscape, taking into account social, cultural and environmental dimensions that influence purchase decisions.

When and Where Can Ethnography be Conducted?
Ethnography can be conducted at any time of day to reach consumers in stores, malls, bars, restaurants, homes, workplaces, concert venues, in the street, or on college campuses. Ethnography can also be conducted online; consumers can complete diaries and share images and videos of their daily activities. The widespread adoption of mobile technology has made online ethnography an increasingly attractive and minimally invasive way for consumers to share their thoughts and experiences.

Ethnography can be employed wherever consumers experience and interact with brands, products and environments. Ethnography reaches consumers in their natural environment as opposed to facility settings. In focus groups, participants are asked to adapt to an artificial environment where others' responses can potentially bias recall and insights. Ethnography seeks to capture authentic responses as they happen by understanding consumers while they are using or reacting to products or making decisions.

Who Conducts Ethnographic Marketing Research?
W5 ethnographers adapt to diverse environments, cultures and consumer groups. Ethnographers have an objective eye for pattern and detail, coupled with the ability to develop rapport with individuals for impromptu discussions. Online, W5 ethnographers comb through diary entries, images and video to uncover factors that reveal details of participants' lives that influence their thoughts and behaviors. With improvisational skills, W5 ethnographers engage respondents in natural dialogue, addressing new insights as they arise, while remaining unbiased.
Ethnographic Methodology
The ethnographic process is not purely linear. Rather, it is a cyclical flow where one phase of observation leads into and builds on another.
As ethnographers learn more, they re-visit earlier ideas and concepts armed with new knowledge and insight. It is a flexible, improvisational and creative process enabling research techniques to adapt quickly to increased knowledge.

Figure 1 illustrates the dynamic application of findings through the various stages of the ethnographic process.

W5 begins each ethnographic engagement by applying these theoretical principles to develop a custom approach tailored to meet each client's individual objectives.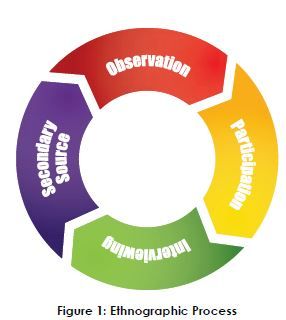 Ethnographic Research Design
Our custom methodology is based on a four-tiered research design outlining a specific process. Research typically begins with a general review of social and cultural trends before shifting to observation and analysis of behavior, attitudes and consumer perceptions of the target brand.
Figure 2, below, is an example of the four-tiered model W5 uses as a foundation for designing custom methodologies for ethnographic engagements.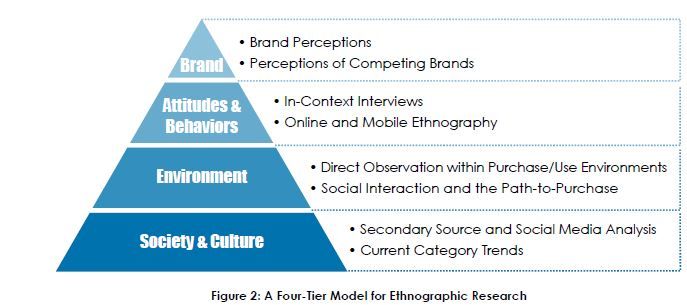 Society and Culture
Social and cultural trends often impact consumers' attitudes and behaviors within a category or industry. We explore these trends through the following methods:
Secondary Source and Social Media Analysis
There are a variety of sources available for secondary ethnographic research. Some of the most valuable sources include discussions on blogs and social media. The wealth of dialogue available online provides a direct window into consumers' unprompted perspectives on a wide variety of topics. Other secondary sources include magazines, radio, television, journals, newsletters, and newspapers. These sources provide information about the social and cultural context in which consumers make decisions.
Current Category Trends
Depending on the research objectives and category, this could be accomplished through analysis such as: cross-categorical, international trends assessment, in-store observation, interviews with category experts and insiders, as well as patterns from analysis of secondary sources.
Environment
An in-depth exploration of how the physical and social environment impacts consumer decision making, engagement, brand perceptions and/or purchase process.
Direct Observation within Purchase/Use Environments
By observing consumers in their natural environments, W5 consultants identify trends and differences among consumer perceptions and the impact consumers' interactions have with products, brands, layout and promotions in the actual purchase/use environments.
Social Interaction and the Path-to-Purchase
The consumer path-to-purchase varies and is often influenced by more than just product, brand, layout or promotions. Social interaction also plays an important role during the consumer experience through the influence of peers, other shoppers and staff.
Attitudes and Behaviors
How consumers behave and what they believe about categories, brands, purchase process or consumption and usage.
In-Context Interviews
All previous observation and research culminates by interviewing individuals about behaviors and reactions to the purchase/use environment, products, brands and services. Thorough probing enables interviews to cover perceptions of social, cultural, and environmental influences on consumer behavior. Insight gained further enriches the depth of information gathered during observation.
Online/Smartphone-Enabled Ethnography
Internet and smartphone technologies provide entirely new ethnographic research capabilities with geographically dispersed participants. These methods are an organic extension of the connected consumer and their increasing willingness to share their private lives through social media. It is now possible to get an insider's view into consumers' lives through smartphone-enabled consumer diaries, video and image uploading of shopping and product usage, and webcam interviewing.
Brand
Consumers' rational and emotional perceptions of target and competitor brands.
Analysis of Brand Perceptions
Through observation and engaged communication, ethnographers assess the myths, aspirations and language used by consumers when they interact with brands. Perceptions are formed through complex interactions of cultural, social and environmental influences. To tap into consumer perceptions, all relevant information is used during the final analyses.
Analysis of Competitive Brand Perceptions
To fully understand consumer perceptions of a given brand it is important to understand the competitive landscape and reasons why consumers arrive at their ultimate purchase decision. Investigating perceptions of competing brands, products and services provides deeper insights into how to strategically differentiate offerings.
In-Depth Reporting
After completing all stages of ethnography, an indepth Final Report provides a detailed account of all findings — a "thick description" of consumer attitudes and perceptions and the foundations on which those beliefs are built. If photography or videography was built into the project, these visual materials are included in the Final Report to provide further insight and context. Poignant quotations from participants also add life to the reporting.
This comprehensive Final Report presents key insights and a full analysis of patterns and their social, cultural, and environmental drivers. All analyses are conducted to identify opportunities where consumers can be influenced through initiatives in product or service design, retail or usage space, and/or strategic messaging.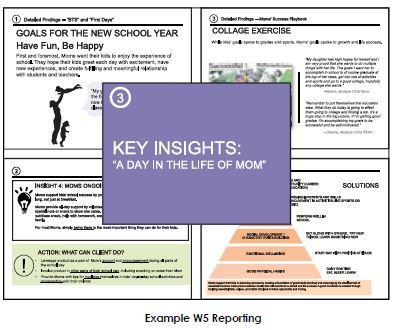 Case Study
Fueling Messaging Strategy Through Mobile and In-Home Ethnography
After a popular morning food's brand messaging was mimicked by category competitors, the parent company sought to revisit the brand platform to find a more meaningful approach. The client was primarily concerned with understanding how stress triggers during the first weeks of school might affect moms' approaches to supporting their kids' success inside and outside the classroom.
Approach
W5 conducted two phases of Mobile Journals with moms of kids age 6-11. Moms used their mobile phones to access an online platform and write personal notes about daily activities and events. To better understand their emotions during these activities, moms used emoticons to "mark" their mood. They also provided images and videos to illustrate specific activities and express their feelings.
To expand upon insights from the Mobile Journals, W5 conducted an additional phase of In-Home Interviews. These interviews explored moms' strategies for helping their kids perform well throughout the school year and the importance of food and nutrition in helping their kids succeed.

Results
Through this comprehensive qualitative initiative, W5 identified opportunities to reframe the client's brand platform by addressing and providing solutions for back-to-school stressors. This knowledge, combined with a deeper understanding of how moms encourage success, prepared the client with fresh ideas for repositioning the brand as a partner with moms in helping kids succeed.
Frequently Asked Questions
For what type of research is ethnography best suited?
Ethnography is an exploratory research method best employed in the early stages of a strategic business or messaging initiative when questions about consumer behavior and attitudes are broad. Ethnography provides a holistic picture of the consumer landscape, including the cultural and social motivations that influence perceptions and action. Ethnography can be used to develop a deep understanding of consumers' lifestyles in the construction of consumer Personas and is frequently used to uncover process-intensive onsumer behavior in service or retail interactions.
What makes ethnography different from in-depth interviewing or focus groups?
In-depth interviewing and focus groups are conducted at research facilities, whereas ethnography takes place in the environmental context where consumers relate to brands, products and services. Observing and interviewing consumers in this way allows ethnographers to pick up on nuances of consumer perception and behavior, exploring contradictions between what consumers say they do and what they actually do.
How long does it take to complete an ethnographic research project?
Ethnography can last weeks to months depending on the breadth and depth of the research questions. Because ethnography is both a theoretical principle and methodology for conducting and analyzing field research, there is no set model for how ethnography proceeds. Each research engagement responds to unique goals and objectives set by a client's needs.


This content was originally published by W5 . Visit their website at www.W5insight.com.